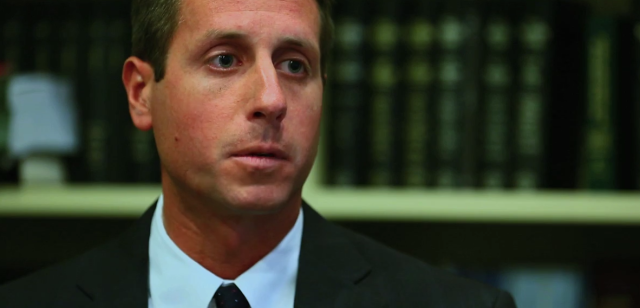 A Nassau District Court judge dismissed charges against North Shore Middle School physical education teacher Aaron Kozlowski, who was accused by four students of watching pornography in his office and fondling himself. One of the students recanted and two others are refusing to cooperating. Now, Kozlowski, 31, is looking forward to moving on and getting back to work. Videojournalist: Chris Ware (Oct. 30, 2013) (November 6, 2013 7:33 PM)
CMG partner Marc Gann has succeeded in having all charges dropped against client Aaron Kozlowski, the Glen Head gym teacher accused in April of watching pornography in his office.   All charges against Kozlowski, which were based solely on the stories of four middle school students, have been dropped – with prosecutors telling the judge that there is "insufficient proof to go forward" and that prosecution of Kozlowski is being dropped. 
Kozlowski was arrested in April based on the story of four boys – 12 and 13 year old students at North Shore Middle School in Glen Head.  One of the boys has now recanted the story and two other boys have refused to cooperate with authorities.  In addition, prosecutors searching Kozlowski's work computer, personal laptop and his wife's personal laptop found no pornography which could corroborate the boys' story in any way, and Gann also pointed to a number of factors that didn't support the boys' claims  — including the fact that there is a wall in front of the office door that would have blocked the boys' view.   According to prosecutors, with no evidence to corroborate the boys' stories, the case has collapsed.  In addition to these charges being dropped due to lack of evidence, Nassau District Court Judge Valerie Alexander has also thrown out all four child endangerment charges.   
Since April, Kozlowski has been on paid leave and barred from coaching lacrosse and other sports at North Shore Middle School, where he has worked for nine years.  With news of all charges being dropped – and no evidence in the case to support the boys' claims, as well as the recanting of the story by one boy – North Shore school district officials are reviewing whether to reinstate Kozlowski. 
In having all charges dropped, Gann has helped to clear Kozlowski's name after being falsely accused of misconduct – and Kozlowski looks forward to continuing to restore his name and reputation.  With these unfounded charges having had a tremendous negative impact on his life, career and reputation, Kozlowski notes that he hopes the boys have learned a lesson – and that they can understand the ramifications of their actions in falsely accusing someone of misconduct.
Today's Newsday features the story of the dropped charges in this high profile case, quoting both Kozlowski and Gann about the impact of these false accusations – read the story here.  In addition, both Kozlowski and Gann were interviewed for a Newsday video to provide more in-depth comments about this important case that has significant implications on our criminal justice system – to watch the video, and for additional insight into this case, click here.  
This case is an important one in highlighting what can happen when someone is falsely accused of a crime – and how the right legal counsel can make all of the difference when it comes to clearing up the facts, clearing the charges … and clearing a name.  At Collins, McDonald & Gann, we continue to go above and beyond when it comes to working to prove the innocence of our clients – and this case is a great example of how we work closely with our clients to protect their rights … and preserve their reputations.