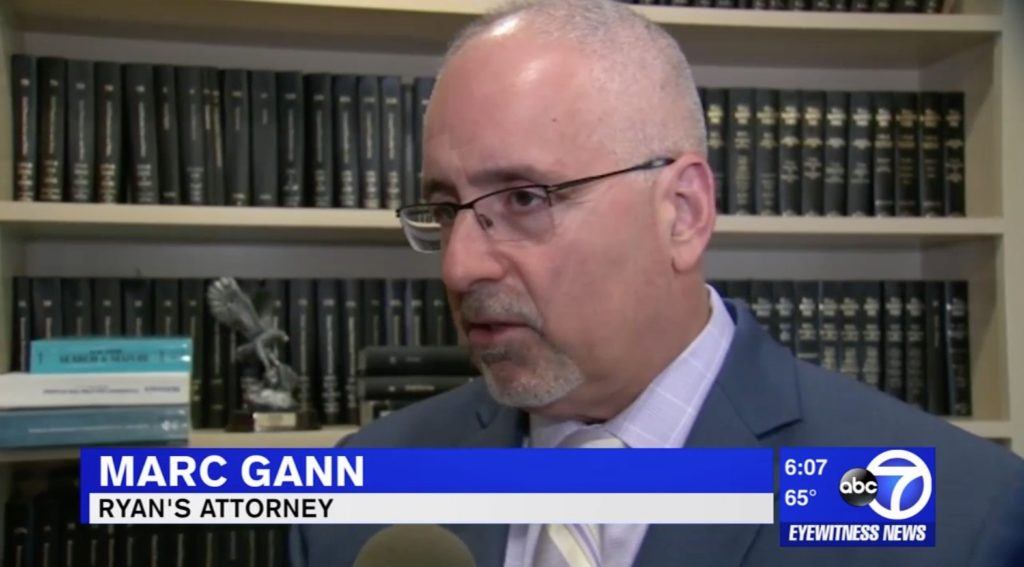 Marc Gann, defense attorney for James Ryan in the precedent-setting Long Island DWI case surrounding the issue of criminal liability in the death of Nassau County police officer Joseph Olivieri, has succeeded in having the state appeals court throw out his client's manslaughter conviction — resulting in Ryan's release from prison last week.
This high-profile case, which made headlines in NY and throughout the country, has critical implications in the area of DWI law and DWI crimes. The case centered on the issue of criminal responsibility and DWI crimes – with Marc's client, James Ryan, charged with vehicular homicide in the 2012 death of Nassau County Police Officer Joseph Olivieri. Although Ryan was not the person driving the car that struck the officer, but rather allegedly set in motion a series of events that ended in his death, he was convicted in 2016 — and was in the process of serving more than five years in prison after he was convicted in 2016 of second-degree manslaughter, second-degree vehicular homicide and other charges. The driver of the SUV that was the vehicle which struck Officer Olivieri — Francis Belizaire — was never charged
On May 9th, a New York State Appeals Court tossed out James Ryan's conviction, ruling that "too much time had passed between James Ryan's actions and the death of Police Officer Joseph Olivieri." According to the Appellate Division panel, "This was not one continuous chain-reaction accident that unfolded within a matter of seconds," the decision noted. "Rather, a substantial amount of time passed between the accidents involving the defendant's vehicle and the subsequent accident in which the officer was struck by the SUV."
The case – and this landmark decision on May 9th resulting in the overturned conviction and Marc Gann's client being released from prison that next day – is being considered by many a precedent-setting case centering on criminal blame in DWI cases. In the days following this groundbreaking decision, Marc has been interviewed by numerous media outlets to provide legal insight into this important case and highly significant decision that is expected to have a major impact on DWI law in the years to come.
"It was a miscarriage of justice to blame James Ryan for his death," Marc stated in a Newsday article appearing the day after the decision, further stressing that ""I don't think that a day has gone by where James has not thought of the Olivieri family." Noting that "this was one of the most emotional cases of my career" Marc, who along with CGMB associate Zeena Abdi fought tirelessly for his client throughout the appeals process, further notes the impact that this case will have both on his client and those charged with DWI crimes moving forward, noting to Long Island Business News that "Nobody wins here. But there is a sense of relief and vindication. What we thought all along, that James was not responsible for officer Olivier's death, is supported by the decision of the appellate division."
To see some of the media coverage surrounding last week's groundbreaking decision and CGMB client James Ryan's overturned conviction, and for more details on this precedent-setting case in DWI law, click on the links below. In addition, if you or someone you know has been charged with or convicted of a DWI crime and is in need of experienced legal counsel in DWI law – and are looking for attorneys who will fight tirelessly to defend your rights in a DWI case and who are established leaders in the area of DWI criminal defense, call us 24/7 at (516) 218-5131 or email us to see how we can help.
Media surrounding overturning of James Ryan conviction:
ABC: Manslaughter charges dropped in 2012 Nassau officer death
CBS: Conviction Overturned In Nassau County Officer's Death In Chain-Reaction Crash On LIE
News 12 Long Island: Court vacates most serious charges against driver in Nassau officer's death
Newsday: Court throws out conviction in crash that killed Nassau cop
Long Island Business News: Manslaughter conviction overturned in police officer death
Conviction Tossed For Man Whose Drunken Crash Led To Death Of Nassau County Officer